Program
The 13th European Championship of Forestry Skills will take place from May 21 to 25 2014 at the vocational school for agriculture and forestry "Fürstenburg".
The Fürstenburg castle is situated at Burgeis, Italy/South Tyrol. It was built in the 13th century.
In the 20th century the castle was restored and renovated.
Since 1952 it has been the vocational school for agriculture and forestry.
Disciplines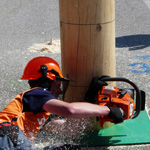 Felling cut
A tree must be cut down within 90 seconds on a simulator, which is aimed to fall as near as possible to a pre-determined felling direction. During the discipline, one must work within the valid safety regulations and working techniques.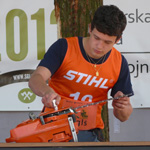 Fitting another chain
With a ready to use chainsaw, one must dismantle and assemble the cutting apparatus. The chain must be taken off, the bar must be turned and another chain must be fitted. The new chain must be fitted so that the chainsaw is ready to use in the two following disciplines without adjustments.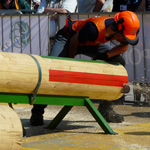 Bucking by combined cuts
From two logs, one must cut a disc of wood no thinner than 30 mm and no thicker than 80 mm. This must be done by cutting the first half upwards from beneath the log and the second half from the top. The contestant gets the highest points when the upper and downward cuts meet each other, without a step, within the marked red zone and at right-angles to the length of the log.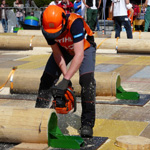 Precision bucking
From two logs, one must aim to completely cut off a disc between 30 and 80 mm thickness. The disc must be cut at right angles to the longitudinal axis of the stem. The contestant must try to cut the whole disc without damaging the board. Damaging the board will lead to zero points for the accuracy of the cut. The discipline will be performed while the log is in a thin layer of sawdust that hides where the log contacts the surface of the board.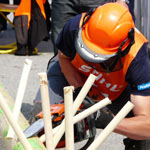 Limbing
In a cylindrically trimmed stem, 30 round branches, all equal in diameter and branching pattern, will be placed, to be cut off by the contestant. The branches must be cut level with the stem, as quickly and as safely as possible.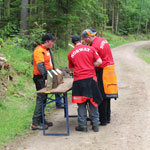 Forestry course
This event is a team contest in which all four contestants start together. They have to solve 16 tasks about forestry knowledge without auxiliary means, only a piece of paper, a pencil and a stick of 1 m may be used. The team spirit and not the individual person is given priority. This event counts 50% of the possible points. Therefore, this part of the competition is essential for the overall ranking of the team.
Contact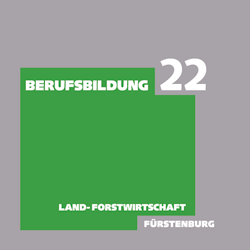 Fachschule für Land- und Forstwirtschaft Fürstenburg
Burgeis/Burgusio, 7, I–39024 Mals/Malles (BZ)
Headmaster: Doct. Monika Aondio
Organisation: Simone Götsch
+39 0473 836 500
+39 0473 836 599